DESCRIPTION
ASUS ROG Chakram Mouse Specifications :
Main Features

Connectivity Technology : Wired/Wireless



Wireless Technology : RF 2.4GHz + Bluetooth
Tracking : Optical
OS Support : Windows® 10
Resolution : 100 dpi - 16000 dpi

Interfce

Dimensions : 132.7 x 76.6 x 42.8 mm



Weight : 121.6 g without cable
Color : Black
Mouse : USB

Battery Life

79 Hours (Operating)



101 Hours (Operating)
Contents




1 x ROG Chakram, 1 x USB dongle, 1 x USB extender, 1 x 1.8m USB cable, 1 x accessory box, 2 x Japanese-made Omron switches, 1 x long joystick, 1 x joystick socket cover,


1 x switch tweezer, 1 x ROG sticker, 1 x travel pouch, 1 x customizable badge, 1 x user manual
Related Video :
ASUS ROG Chakram Gaming Mouse

The ROG Chakram RGB Wireless Gaming Mouse from ASUS. Featuring a 100 to 16,000 dpi optical sensor that can detect movements at 400 inches per second (IPS) and five programmable buttons, this wireless gaming mouse delivers both performance for demanding games and versatility for everyday use. Using the included dongle, you can play games in the 2.4 GHz RF wireless mode up to 79 hours, or the battery-conserving Bluetooth LE mode for about 101 hours of standby time. Or connect the included 6' USB Type-C cable for wired mode and fast charging from a USB 3.0 port. Fast charging the internal battery for 15 minutes can give you enough power to play for up to 12 hours. The ROG Chakram also supports wireless Qi charging using compatible surfaces.A fully programmable joystick frees you from having to switch to gamepads when playing racing games and flight simulators, allowing you to keep your hands on the mouse and keyboard. The joystick can operate in either analog mode or digital mode, which lets you program four custom direction functions such as switching weapons, reloading, or scrolling web pages. Long and short joysticks are included to match your style, or it can be removed altogether. In fact, the ROG Chakram is designed to be fully customizable with its screwless magnetic cover, detachable buttons, and light-up badge that shines the customizable ROG logo through mouse surface. It also features full support for Aura Sync RGB lighting, which can be adjusted using the Armoury II software utility to synchronize with other compatible peripherals such as mouse pads, keyboards, and more. The ROG Chakram requires Windows 10 for full functionality.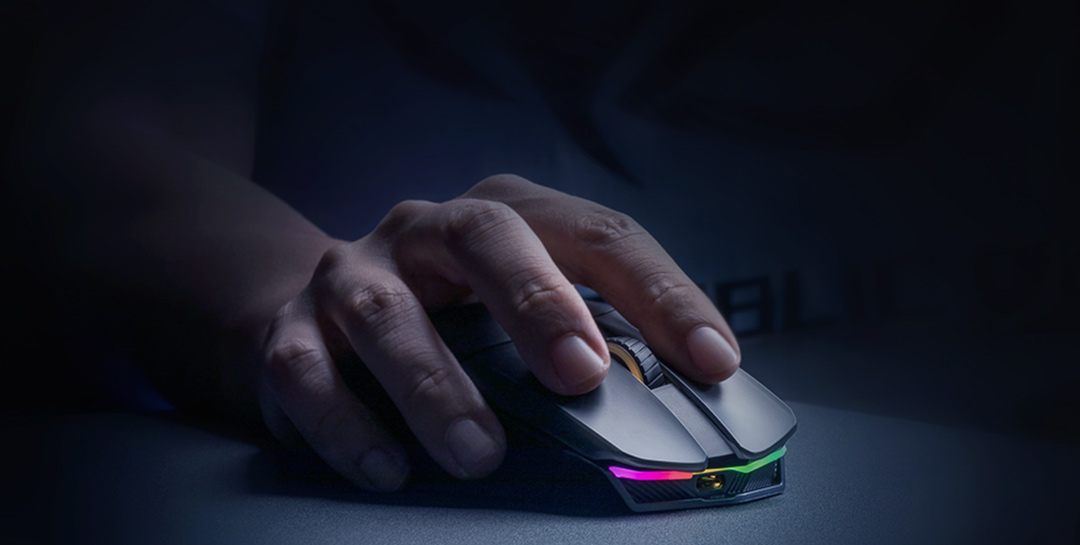 Maximum Peformance
The ROG Chakram features an optical sensor that can detect between 100 to 16,000 DPI at up to 400 inches per second (DPI) with up to 40 g acceleration. It also has a pivoted button design that uses springs and metal hinges to balance the keys while minimizing the distance traveled between the buttons and swtiches.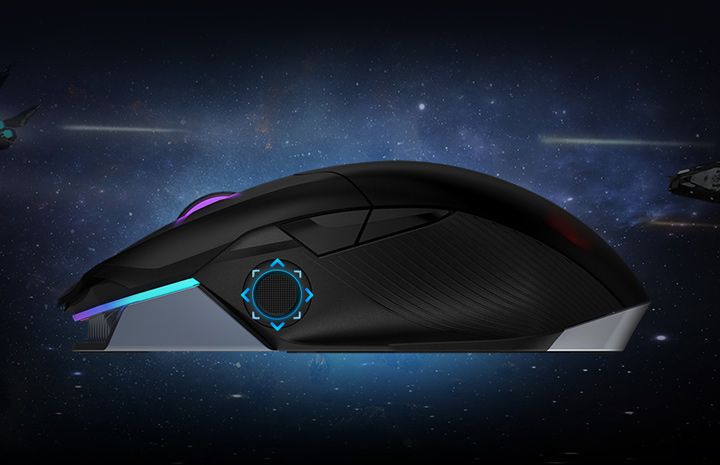 Choose Your Connection
Play games wirelessly using the highly responsive 2.4 GHz RF connection or maximize your battery life with the Bluetooth LE mode. Or you can attach the included 6' USB cable for a wired connection at any time.
Exceptional Battery Life
The ROG Chakram provides up to 79 hours of gameplay time when in RF mode and up to 101 hours in Bluetooth LE mode.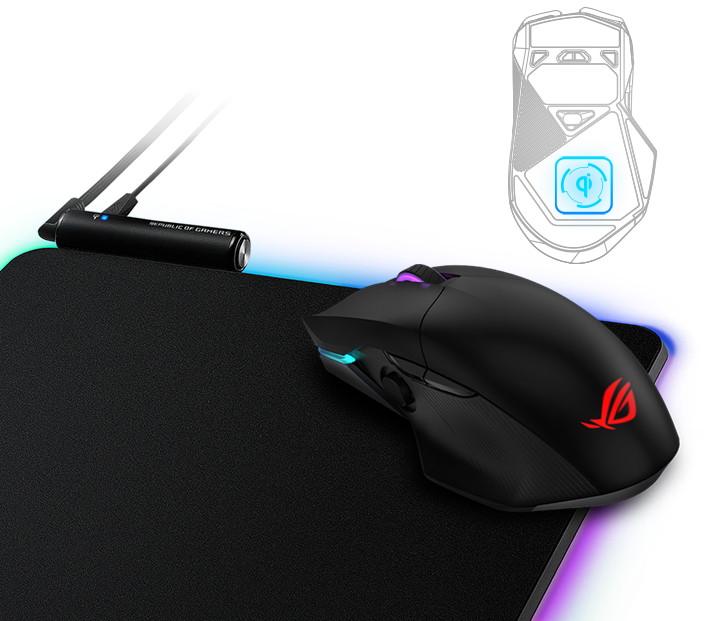 Charge Your Way

With Fast Charging via the included USB Type-C cable, you can get up to 12 hours of gameplay time from a 15-minute charge. Or you can use a Qi charging surface to recharge the mouse wirelessly.
Integrated Joystick
A thumb-operated joystick can be set to analog mode to take the place of gamepads, or switch to digital mode to perform up to four functions. Long and short joysticks are included for optimized comfort.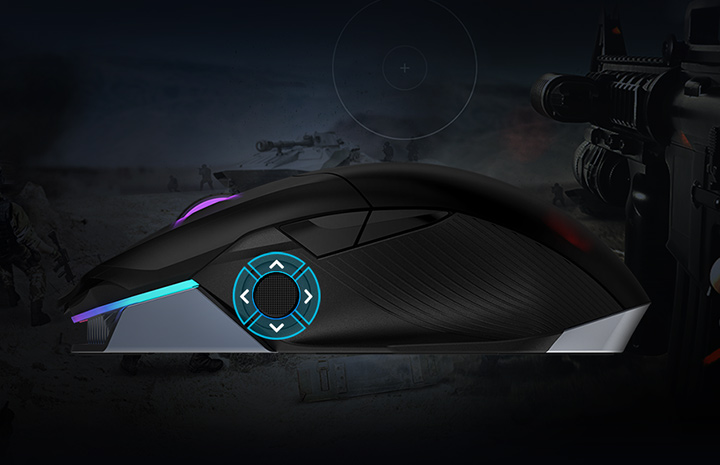 Fast DPI Adjustment
Quickly changing the DPI sensitivity by holding down the DPI button and scrolling the mouse wheel. No software is needed! Alternatively, clicking the DPI buttons will cycle between four different settings.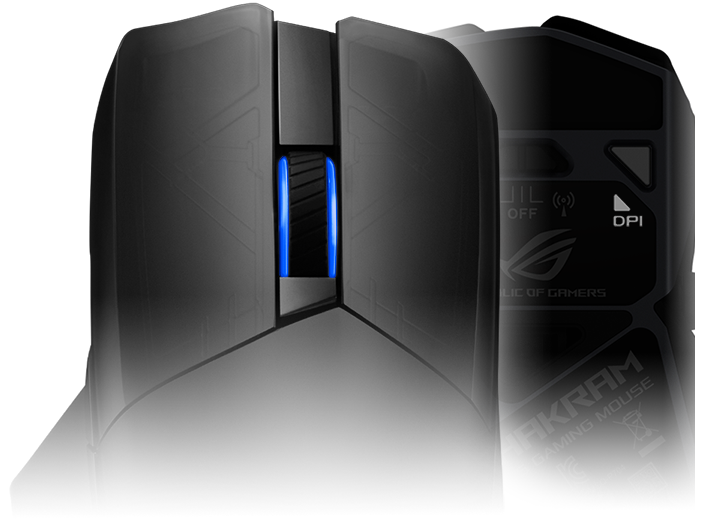 Full Customization
The ROG Chakram makes customization easy with a screwless magnetic cover and buttons, push-fit switch sockets, and a customizable badge featuring light-up ROG logos.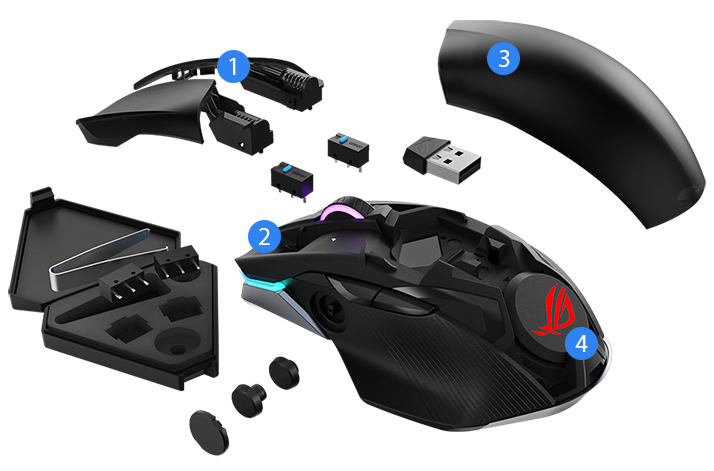 Aura Sync Lighting
Customize the ROG Chakram with a range of dynamic lighting effects that include several different presets. The mouse can also be synchronized with other Aura Sync-compatible peripherals.
Armoury II
Use the Armoury II utility to calibrate and customize the mouse's performance. The software allows you to reprogram and map buttons, change the joystick functions, customize the lighting effects and more.