Overall Dimension:

129×86×158mm

Net Weight: 676 g
Bearing Type: Hydro Bearing
Max. Air Flow: 64.5 CFM
Noise: ≤27.8 dB(A)
Fan Dimension: 120X120X25 mm
Fan Speed: 500~1650 RPM±10%
Rated Voltage: 12VDC
Rated Current: 0.14A
Power Input: 1.68W
Warranty: 01 Years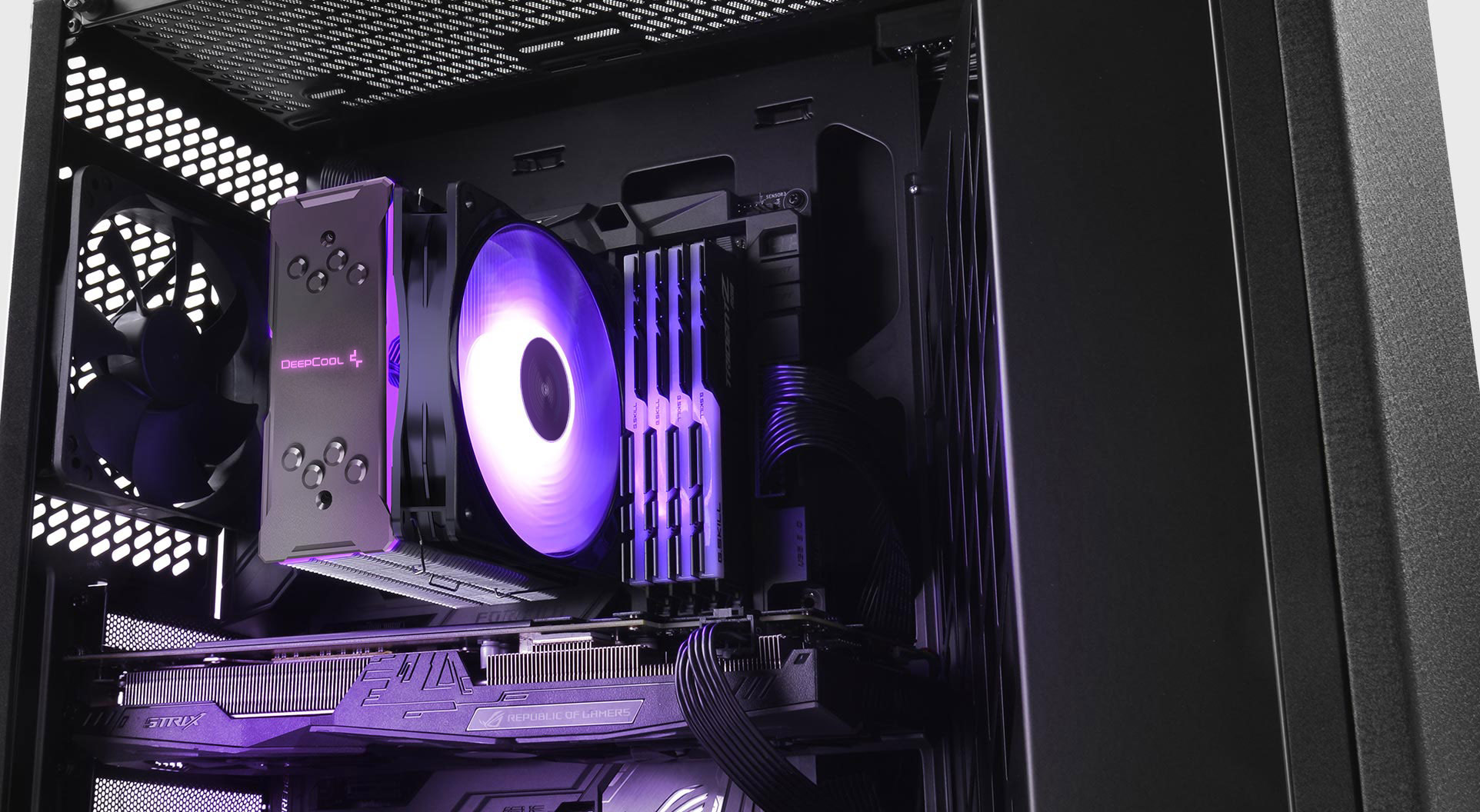 DEEPCOOL Gammaxx GT A-RGB CPU Cooler in Bangladesh
Efficiently cool and enhance the aesthetics of your build with the Gammaxx GT A-RGB CPU Cooler from Deepcool. This CPU cooler is compatible with a wide range of both Intel and AMD sockets, and it comes with a 120mm fan. The lighting schemes on the RGB-lit aluminum top cover can be controlled via a compatible motherboard or using the included wired controller. Performance-wise, the air cooler is built with an aluminum heatsink with 0.5mm thick fins and four direct-touch heat pipes. Installation is easy and all the tools you need are included.
All-Aluminum RGB Top Cover
The all-aluminum top cover features RGB lighting to enhance your system's aesthetics.
RGB Lighting Customization
Plugin the included ARGB connector to a motherboard that supports ARGB lighting and controls the lighting with downloadable software. Also included is a wired controller with three buttons for mode, power/brightness, and speed.
Cooling Performance
The heatsink has 0.5mm-thick fins combined with four direct-touch heat pipes to help transfer and dissipate heat from your CPU.
Easy Installation
The included optimized mounting kit includes everything you need and installs easily in just a few steps.
What is The DEEPCOOL GAMMAXX GT A-RGB CPU Air Cooler Price in BD?
The latest price of DEEPCOOL GAMMAXX GT A-RGB CPU Air Cooler in Bangladesh.

PC House offers you DEEPCOOL GAMMAXX GT A-RGB CPU Air Cooler with the best price in Bangladesh. Which is your budget-friendly. We also offers you free gift or free installation with this DEEPCOOL GAMMAXX GT A-RGB CPU Air Cooler Order Online for nationwide cash on delivery or visit our Shop. Follow us on Facebook for regular updates and Hot Sale. Subscribe our Youtube channel for reviews.
You can buy the DEEPCOOL GAMMAXX GT A-RGB CPU Air Cooler at best price from our website or visit any of our showrooms.